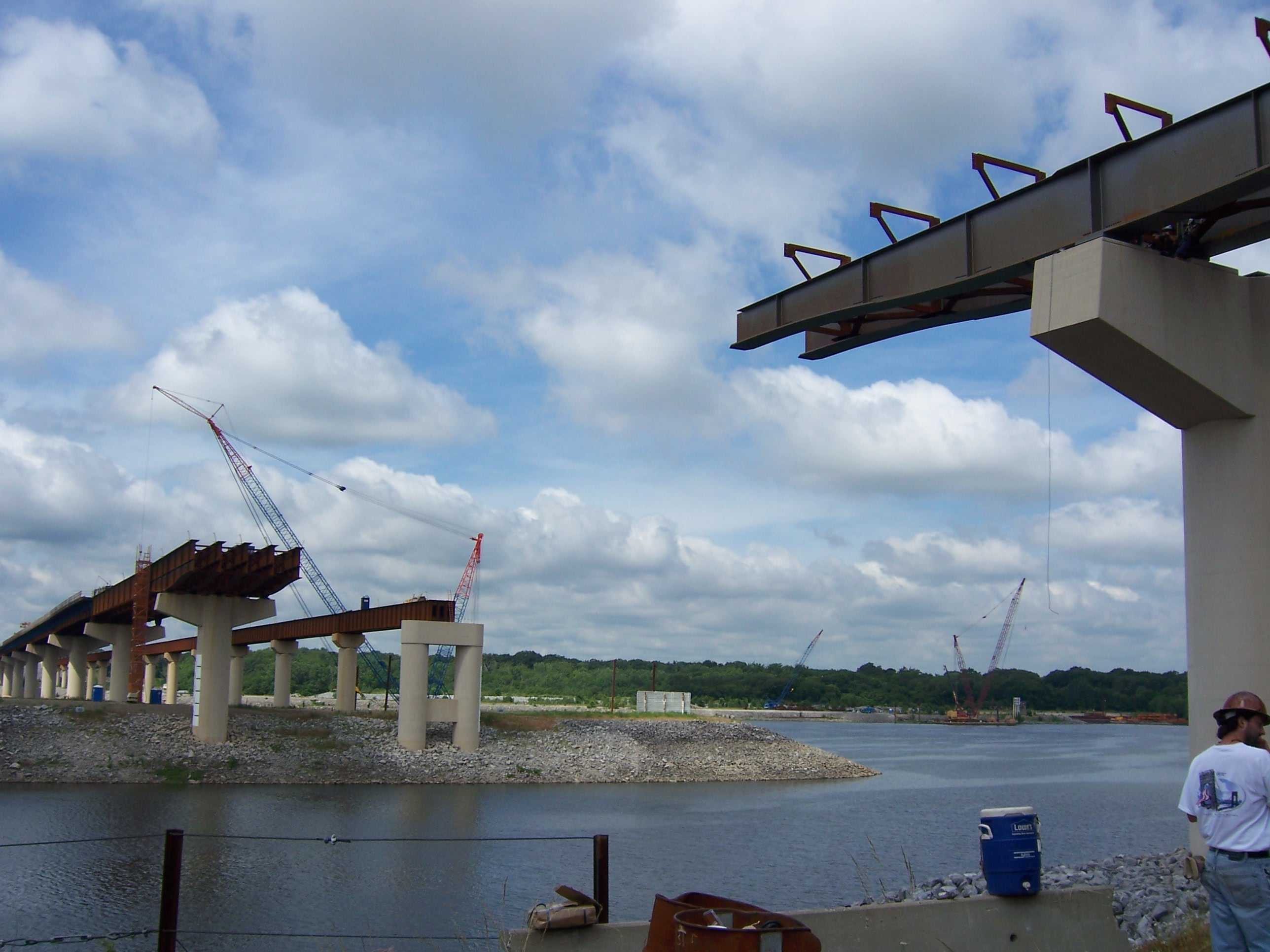 American Bridge was prime contractor to the US Army Corps of Engineers for two new bridges – one roadway and one rail – to facilitate the widening of the navigation lock at the Kentucky Dam. During the project, there was no single disruption to the navigation channel exceeding eight hours.
The two-lane roadway bridge is a 10-span, 3,116-foot steel plate girder structure with a main span of 505 feet. The four and five lines of girders were erected in pairs using the drop-in method, with picks up to 200 tons. These double crane picks were made by two barge-mounted 4100 Series II cranes with ringer attachments. At the main channel, the haunch segments were each erected in two pieces, with a horizontal splice made in place. The main channel span was also assembled using the drop-in method.
The railroad bridge plate girder approaches were erected span to span, in pairs and with double crane picks. The girders had 4″ (101mm) thick flanges. The 505'x25' wide x 62' tall mainspan truss weighed 2,200 tons (1,996mt). It was assembled on a single falsework bent in a specially prepared nearby yard. The truss was erected by floating two 195′ (59m) by 70′ (21m) barge assemblies with falsework towers and jacking platforms pre-erected. After assembly, it was floated off its center falsework bent and to the erection point and lowered onto its permanent bearings. The float-in was completed in a single eight-hour channel closure.
There was also another 120 foot (36.6m) railroad bridge that was entirely replaced on the existing alignment in a 48-hour rail closure. To accomplish this, American Bridge constructed the piling and piers around the existing bridge without removing it from service, and the new span was constructed on adjacent falsework. During the closure, the old span was demolished and the new span slid transversely into place.
American Bridge self-performed all steelwork and also poured 10,000CY of cast-in-place concrete deck for the roadway and highway bridges.
The Kentucky Lock Bridges were designed by Entran, Inc., Hanson Professional Services, Inc., and Harrington & Cortelyou, Inc., and were completed in February 2012.
Project Details
Owner: U.S. Army Corps of Engineers
Location: Grand Rivers, Kentucky
Project Value: $103M
Completion Date: February 2012
Structure Type: Bridge
Delivery Model: Design-Bid-Build