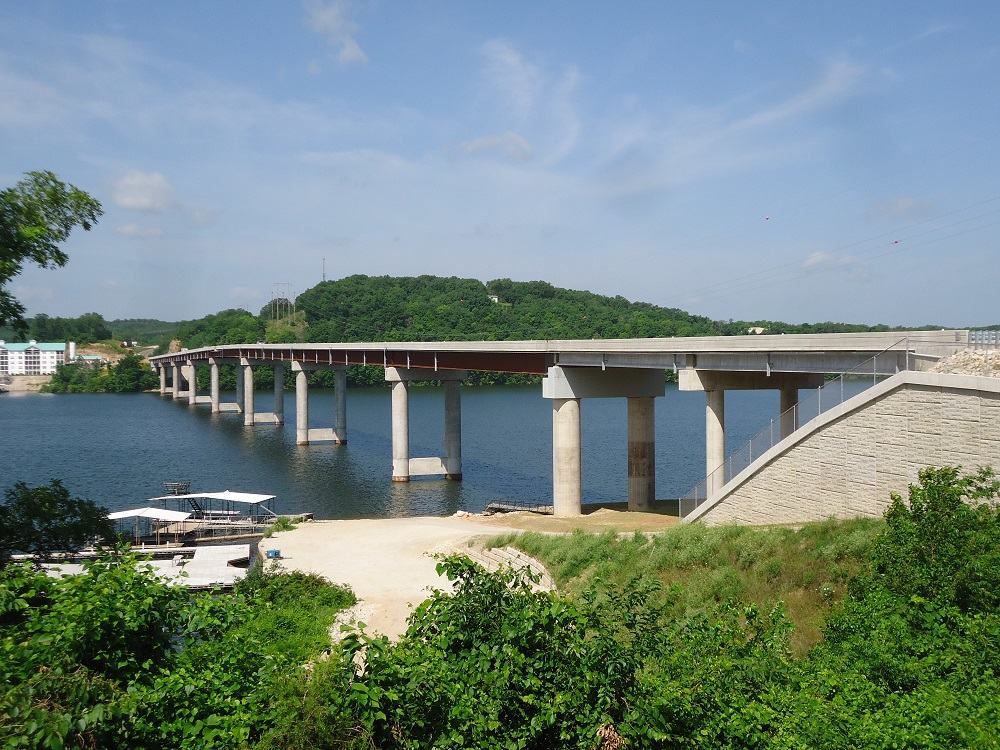 Carrying Missouri Route 5 over the Lake of the Ozarks, the existing truss bridge in Sunrise Beach, Missouri, built in 1935, was selected for replacement by the Missouri Department of Transportation (MoDOT) in 2010. The new, $32M Hurricane Deck Bridge was completed in May 2014, three months ahead of schedule.
To leverage contractor innovation, MoDOT employed an alternate technical concept (ATC) process in procurement. For those pursuing ATC's, a design-build style setting was employed for development. American Bridge elected to pursue a bold ATC that involved constructing a permanent structure on offset alignment. This plan incorporated a revised alignment, resulting in two benefits: maintaining construction within MoDOT's right-of-way and greatly reducing the scope required for roadway tie-ins. The ATC solution was a 2,260-foot, long-span plate girder bridge supported on large diameter drilled shaft foundations. The result of this innovation was a low bid $8.3M below the lowest bid on the unmodified design. Furthermore, American Bridge's ATC exceeded maintenance of traffic goals by eliminating a seven-day closure of Route 5 required by the base design.
Additional innovations included designing a unique floating drilled shaft template system using sectional barges. Long-span plate girder erection required extensive planning and construction engineering. The combination of long spans, deep girders, heavy lifts, deep water, and close proximity to the existing bridge pushed American Bridge's in-house engineering department to devise an innovative erection scheme without falsework in the lake.
American Bridge self-performed construction of pile driving, concrete substructure, steel erection, and concrete deck construction and also provided heavy support to the installation of the large diameter drilled shaft foundations. Including design, construction, and controlled explosive demolition of the existing bridge, the project opened to traffic three months ahead of schedule. All of this was accomplished without a single lost time incident on the project.
Awards
American Bridge was awarded the Quality, Prosecution & Progress, Contract Compliance, Contract Administration, and Top Achiever awards from the MoDOT Specialty Contractor Division in 2013.
Project Details
Owner: Missouri Department of Transportation
Location: Sunrise Beach, Missouri
Project Value: $32.3M
Completion Date: May 2014
Structure Type: Bridge
Delivery Model: Alternative Technical Concept (ATC) / Design-Build