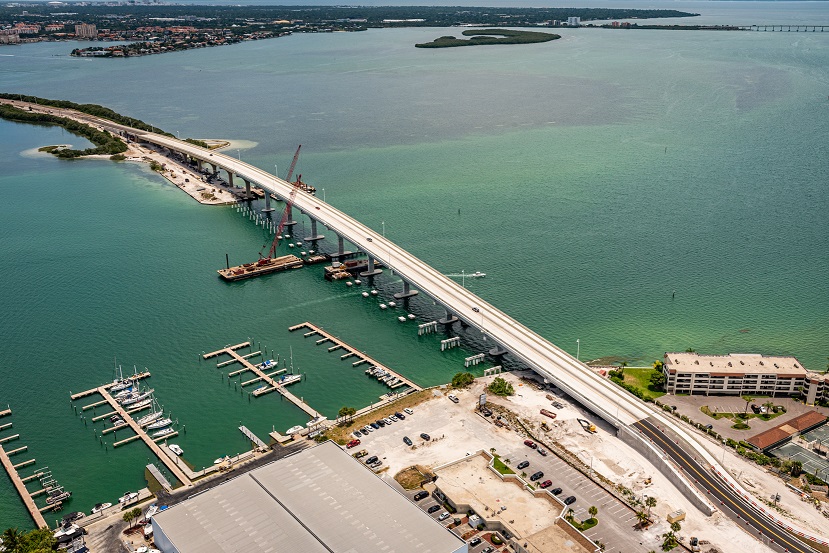 Bayway Structure E Project Going Out with a Bang
Bayway Structure E Project Going Out with a Bang
https://www.americanbridge.net/wp-content/uploads/SR679_Pinellas_Bayway_Bridge_CMP.jpg
829
553
American Bridge
American Bridge
https://www.americanbridge.net/wp-content/uploads/SR679_Pinellas_Bayway_Bridge_CMP.jpg
On Tuesday, a countdown began. "Three… two… one… fire in the hole! Fire in the hole!" Seconds later, a boom reverberated across the blue-green water to people standing a safe distance away.
For the past three months, the SR 679 (Pinellas Bayway) Structure E Team has been hard at work dismantling the aging bascule bridge that once serviced residents and visitors to Tierra Verde island just outside of Tampa. It has been replaced by a new, high-level fixed span built by AB that our client, the Florida Department of Transportation (FDOT), opened on February 18, 2021.
Demolition activities began with the removal of the main bascule span. AB's Engineering Department worked with the project team to develop lift plans to safely pick the steel and move it to land so it could be cut up, processed, and recycled. At the same time, crews were removing the superstructure and substructure on the north and south approaches, which were typical precast concrete spans, with the heaviest lifts weighing in at over 60 tons. The concrete piers were taken down to the water line with mechanical demolition.
Bascule spans require substantial piers to accommodate the operating machinery, tender house, structural span, and counterweight, while maintaining structural stability to resist the loads of bridge operation and vehicular traffic. Each bascule pier at Bayway contained over 750 CY of reinforced concrete which makes mechanical removal below the waterline very difficult without heavily reinforced temporary coffer cells. This left what is arguably the flashiest demolition method – explosives.
The Bayway Team and AB Engineering developed a plan in concurrence with specialized subcontractor Contract Drilling & Blasting, LLC. Because the new bridge sits approximately ten feet away from the old span and adjacent to the Gulf Intercoastal Waterway, coffer cells were placed to contain debris and offer environmental protection. The blast itself was designed to pull material away from the new structure. This was done by introducing minor variations in timing of each charge. Charges were timed at 9 ms increments to control the direction of where demolished materials would fall underwater. By setting off the charge furthest from the new structure first, debris was pulled toward the path of least resistance – away from the high-level span. ​​​​​​​
Sixty-four holes were drilled into each pier which were then loaded with dynamite. After a 30-minute watch period for marine mammals such as dolphins and manatees within the 1,862-foot exclusion zone, and 30 seconds after a smaller underwater warning charge went off to deter marine life, that countdown began. FDOT drone footage captured the event:
Material will be removed using clam buckets. Demolition activities will continue with the removal of the remaining piers and foundations. Though FDOT's requirement is removal to two feet below mudline, the Bayway Team will be fully extricating most pile from the existing structure. Remaining work includes installing coastal stone revetments, finishing seawall and Cast-in-Place retaining wall installation, final bridge coating/painting, finalizing phased construction of the roundabout, and milling and resurfacing roadways. Expected completion is late summer 2021.
More on Bayway Structure E
The $56M design-build contract was awarded to AB in June 2018. Our solution included a two-lane, 2,583-foot bridge founded on precast pile with water-level foundations featuring architectural columns and caps. Florida I-Beam girders, cast-in-place decks, barrier walls, and a fender system complete the structural work. Designed for a 75-year service life, Structure E is a designated hurricane evacuation route. Other scope items include milling a resurfacing 1.7 miles of SR 679, roundabout construction, lighting, signage, an Intelligent Transportation System package, and retention ponds.